The Fred Report - Mid Week Update August 24, 2011
|
author/source:
Fred Meissner, CMT

The FRED Report – Financial Research, Education & Data
Mid Week Update
Volume 3, Issue 68
August 24, 2011
Download PDF Version here
Update of Market View
The stock market has started to rally, as we suggested it might this week, in our Weekly Report. While the intraday structure of the rally was reasonably good, generally these big "one day wonder" type of rallies are consistent with bear markets, and as such the action would tend to confirm that this rally is a selling opportunity, and our retest scenario is alive and well.
We expect a choppy day Wednesday, with a slight down close, followed by an up Thursday and Friday – and this sort of action would suggest this up-move has legs that could carry for more than a week. In fact, our ideal scenario would be an up week this week, a down week next week, and then further strength the week of September 5th. If this sort of action occurs, that would tend to suggest a retest of the lows would be successful. If tomorrow is another super strong up day we would start to sell into the rally.
When the economy starts to emerge from recession, or recession fears, Small Cap stocks often perform better. We show daily and weekly charts of the IJR (iShares S&P Small Cap ETF) and note that it is still outperforming large caps. Should we see more recession fears, we would expect large caps to show some out-performance.
We note that GLD and TLT have started to come down. We could see GLD in the 170-area or so, and TLT back to 100, but will monitor these carefully as the week progresses.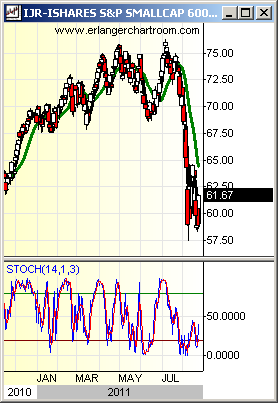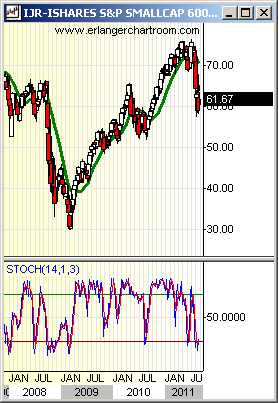 Other Points of Interest
We were asked an interesting question on a conference call: "Could we have a strong advance into the end of the year, without strong performance from the financials?" Our answer to this question is a qualified YES. We say this for two reasons. First, look at the rally from the March 2009 lows, which put Small and Mid-Cap indexes at all-time highs, during which the financials under-performed. Second – let's assume the XLF rallies back to 14.50 – the breakdown point. That would be a 16% or so rally in XLF from here, which would help the market move up, even if other sectors outperformed.
While at this point it is too early to make a yearend rally forecast (we would want to see improvement in the indicators and a successful retest), out-performance by financials would not be needed or expected. We show daily and weekly charts of XLF below, and invite readers to compare them to the Small Cap index charts in the first section of this report.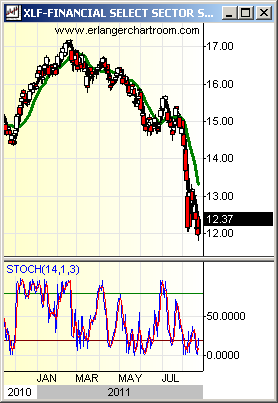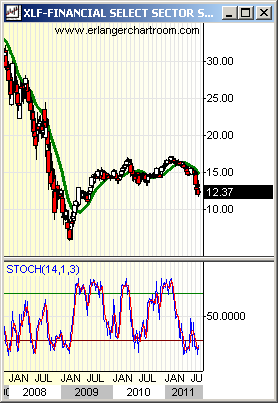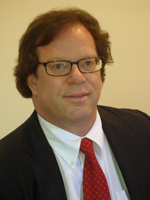 Who is Fred Meissner, CMT?
Listen here: