The Fred Report - Mid Week Update March 9, 2022

The FRED Report – Financial Research, Education & Data
Mid Week Update
Volume 14, Issue 18
March 9, 2022
Download PDF Version here
Update of Market View
Stocks had a seesaw day on Tuesday after a big down on Monday and finished lower both days and now four straight down days. In the weekly, we mentioned indicators were set up for a rally this week and gave some parameters. We are below the support areas given in the weekly SPY (SPDR® S&P 500 Trust) 426 and QQQ (Invesco® QQQ NASDAQ 100 ETF) 334. It is possible that Tuesday's action was "pumping the brakes" and a setup for a rally. If this is the case, SPY could still challenge the 440-area. Continuation of the decline, and new lows for the move on SPY would be a concern. We could see new lows on QQQ, but as long as SPY can hold, there is still some rally potential.

One client asked us about Margin Debt. While we do not follow that indicator anymore, there is an excellent point here: You should use strength to get off margin. If we do not see a rally attempt here, then it is likely we drop sharply and test the 380-area on SPY.

Tuesday's action in TLT confirms the trading buy signal there is over. We still think it is a good defensive play vs. stocks, but this is because it could fall less than equities. We have no changes in other opinions for this week.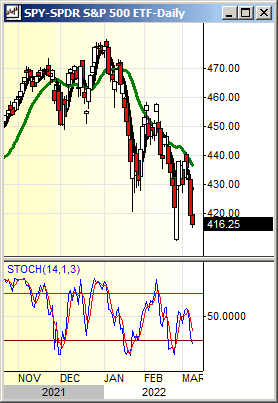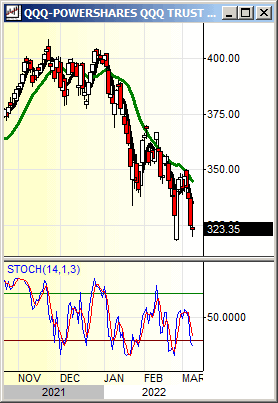 Other Points of Interest
We have had some questions on XLF. This has been an upward-sloping consolidation since last July. So far, it is holding the bottom end of the range, at 35. The daily stochastic is a failed buy recycle, and the weekly is oversold and has not yet turned up. A break of 35 on XLF would target the breakout at 30. A move back above 38 would repair this chart. The Accumulation model on XLF has been weak. This suggests further decline so we would be careful in here.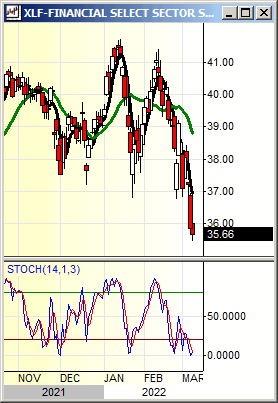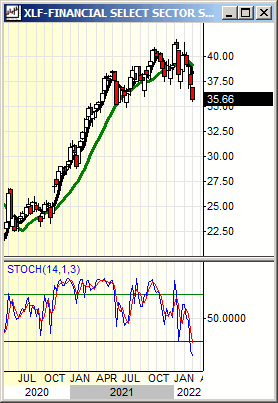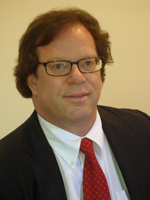 Who is Fred Meissner, CMT?
Listen here:
The FRED Report is not authorized, endorsed, or affiliated with the Federal Reserve of St Louis and its FRED Economic Data.