Research Piece: July 2010 - by Fred Meissner, CMT
We have decided to publish a quick research note on Gaps as the recent gap on the SPY has generated many questions, both on the July 30, 2010 call and later via email. In addition, we will do the research piece for the August Monthly Review on gaps. We want to thank all of you who asked these questions as it helps me to help you all by showing areas where I can fill in some knowledge.
This area of the market analysis can be quite arcane, but in this case the gap is fairly straightforward, although it is much clearer on a bar chart vs. a candlestick chart. We show below a candlestick chart and a bar chart and the gap is clear and indicated by an arrow.
Note that this gap is from the close of one day to the low of the next.
Questions have centered around whether the trading on the day BEFORE the low close matters as the gap essentially happens within that previous day's trading. The correct way to think about it is this: imagine we had a trading system that gave a buy signal on the close, and we put an order in to buy or sell at the closing price for the next day. In this case, you can see that an order did not get executed the next day, and for that matter still has not executed. So, it is a real gap.
We hear that gaps fill all the time. In our August Monthly research piece we will look at this more closely and use some actual examples. For our purposes here though, please note that we are looking for some pullback/consolidation in the market.

A logical target to use for that behavior is this gap, as gaps do tend to fill.

That is why I used that price area.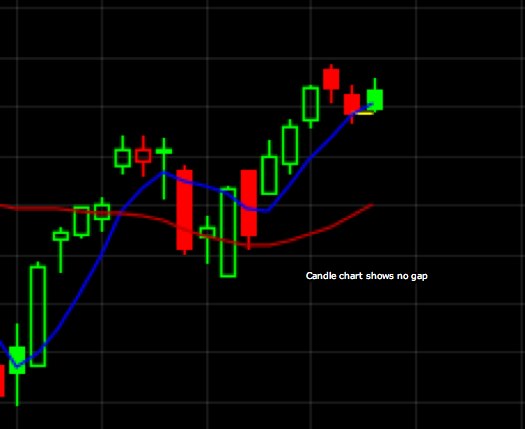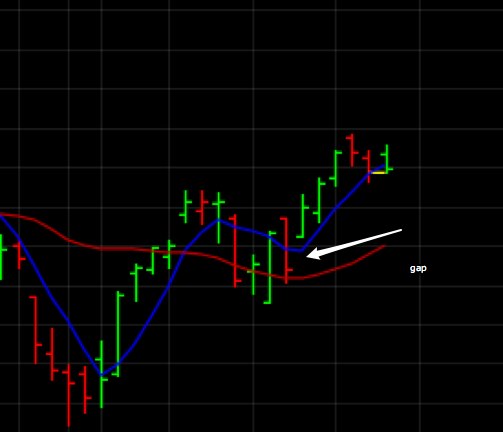 Disclaimer: