FREDAlert!
Volume 3, Issue 7

October 04, 2011
This alert is meant as an addendum to the Monthly Review, as while that was in production the SPX (and SPY) have made the new price, and closing lows, forecast in early August, to complete the pattern and potentially forecast a rally of some magnitude.
We have had a number of questions about this that we will attempt to answer, below.
First, several advisors have asked whether this needs to be a WEEKLY closing low to complete the pattern? Our answer is that while that would be ideal, it is not necessary – and more important is that for this to work the market should stabilize in this 1100 to 1075 – 1080 area and not just fall apart. It is certainly possible that the market churns around here, make a new closing low, and rally over the next few weeks. Use risk management: it is certainly possible that the decline continues – we have been wrong before, and as mentioned – the fundamentals suggest more decline is possible, trend following systems (which often lag at turns) remain negative.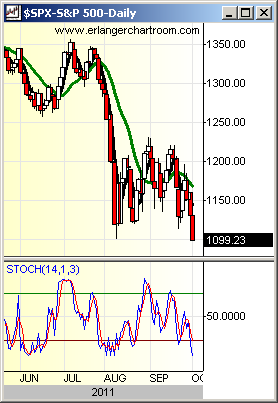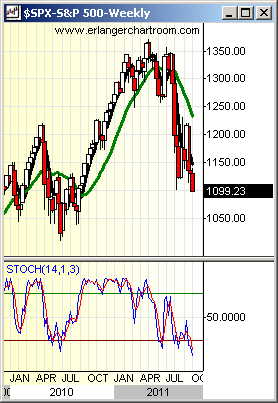 Second,
we are not surprised that we have arrived in this price area.
What IS surprising is that some of the indicators in the Monthly look as positive as they do
. We have to be bullish here, but with risk management in place, as if this area fails to hold this is likely the halfway point of the decline. Could we test the 920 area on SPX if this market fails to hold? Absolutely - SO: Risk Management and flexibility is key.
Third,
we note that stocks in strong sectors are doing quite well – several advisors are trying to buy some of the strong stocks in our Sector Review cheaply (such as IBM, CVX, PG, BMY) and they are not getting fills. This could change if the market can continue the decline, but it is certainly a positive surprise.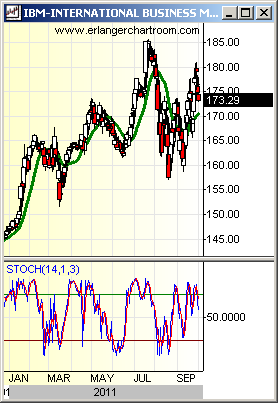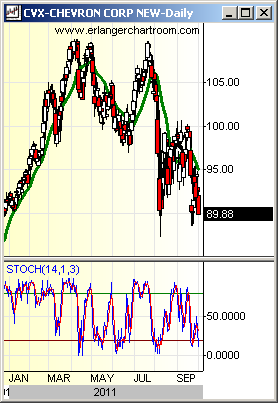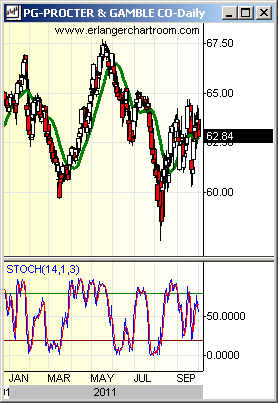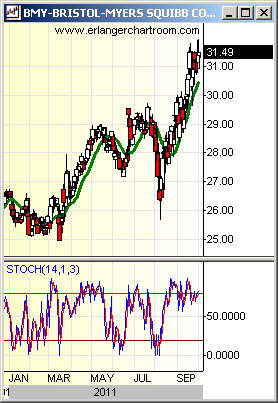 Fourth,
we have had a lot of questions on financial stocks. We remain underweight these issues, and will not change this until our BAC accumulation model improves – the model continues to make new lows ahead of the stock price, and is at an all time low once again. Financials may stage the biggest quick rebound on a trading basis, however.
Fifth,
several advisors have asked about the efficacy of averaging in slowly here, and others have asked about selling puts on stocks they want to own. We assume most of our subscribers have sizeable cash positions waiting to be put to work, so those are decent ideas.
We would like to see a down open Tuesday followed by a relatively quiet day.
How we close today is more important to us than how we trade during the day. We will have more comments out in the midweek report tomorrow.